Welcome to MemetroMap, this is the official development page map alert MemetroBCN. If you want see the map directly go to our other website called MemetroMap Barcelona.
Nuestro program translates the coordinates, Tweets with alerts and controls reviewers in the Barcelona metro, and all positioned on the map in real time.
Thus for example if you're late for a site, you can go forewarned and avoid you do your warm welcome when they see, and so you do not waste time.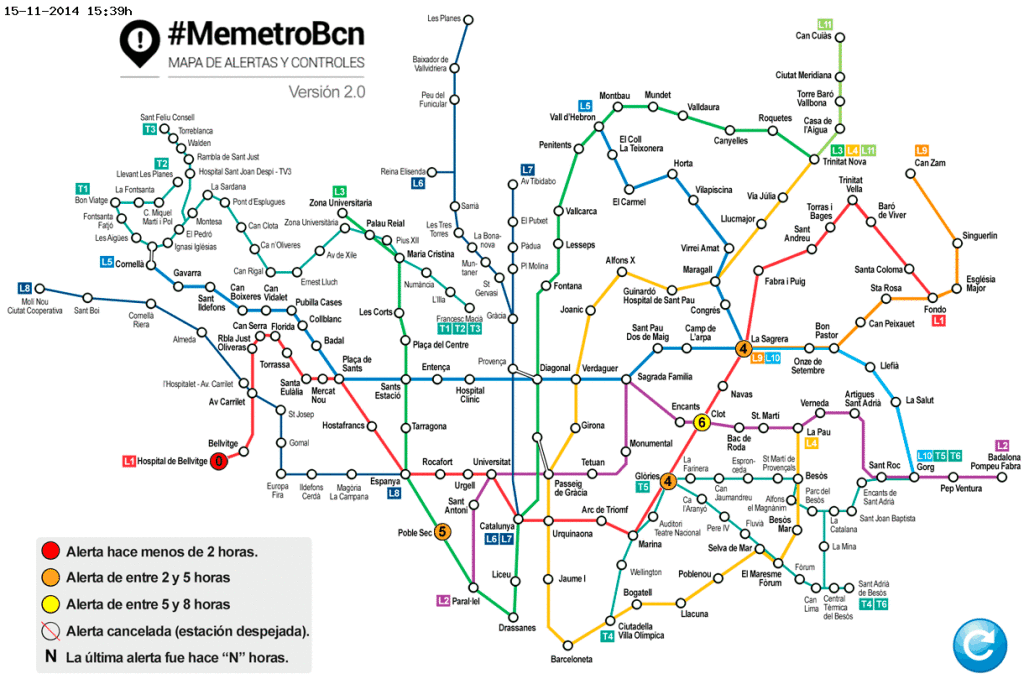 Clicking on the image above, you go to another page where you will activate the automatic reading of tweets and subway map will show you real-time alerts. Good, actually updated every 3 minutes to avoid saturating our server and that Twitter will not be angry with us for being so heavy.
On large map, we suggest you click the metro station that interests you, because sometimes people write anything false alerts and active, for example saying they've seen two reviewers eating popcorn at a station.
The numbers within the red circle, naranja about amarillo, indicate the hours since the last received alert that have passed via Twitter.
This version of the map is slightly different there hanging on Memetro, because his version is no longer updated and sometimes has flaws. especially with the false altertas. However this version of the map, is frequently updated with the latest advances in the automatic detection and discarding false alerts, inter alia.
Any suggestions you can think of to improve the program, You can leave in the comments below there these lines.